3 Years "Best of Weddings" and Certified Tahiti Specialist
Sheila Cannon
Feb 28, 2017
0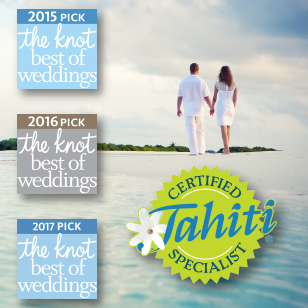 YUCAIPA, CA (February 28, 2017) – In a rare combination of global achievements, local travel agent Sheila Cannon, owner of Carefree Romantic Vacations, has earned two exclusive recognitions within 30 days: the "Certified Tahiti Specialist" designation from the Islands of Tahiti and "Best of The Knot 2017" -her third consecutive year- from TheKnot.com, America's premier wedding and honeymoon travel website.
Sheila has been a travel agent for eight years and is regarded as one of the foremost experts on travel around the world. It was her husband who began her love with travel on their honeymoon. She has since visited all 15 Sandals® resorts, cruised every ocean, flown more than 200,000 miles, and booked more than $2,500,000 in travel for her clients. Her new "Certified Tahiti Specialist" designation combined with receiving "Best of the Knot" for three years in a row further cements her status as the Inland Empire's best choice for travel.
"My clients mean the world to me. Whether a corporate group or a romantic couple, I want to make sure they have every opportunity to make a fantastic memory," she said.
"Best of the Knot" recognition is based primarily on customer reviews throughout the previous year. Becoming a "Certified Tahiti Specialist" has far more rigorous requirements that can take up to one year to complete. These include visiting multiple Tahitian islands and receiving official training on the best dining, excursions, and accommodations of an enjoyable Tahitian vacation, as well as designing experiences for couples and families to visit these islands.
Sheila's work for her clients routinely earns 5-star reviews on websites across the internet. Most of her clients live and work in the Inland Empire, where she has lived her entire life. Sheila and her husband Mark have been married for 29 years.
To learn more about Sheila, her customer service, or how to have peace of mind that your vacation will be amazing, visit her services page.
Let's Work Together !
Schedule a phone meeting with me using my convenient online scheduler.
Click Here to Start
Top 5 Things to Take with You for a Romantic Getaway
Set the Stage for Romance
Use these Ancient Seduction Secrets
Don't Forget the Most Important Item!