Crafted Experiences Unforgettable, Stress-Free Vacations
Hot Deals and Offers
Check out our best offers in cruise and land vacations. Search with your offer ID.
Sweepstakes
Sign up for the chance to win a
FREE vacation!
Why Choose Me?
I translate your desires into reality to create dream vacations for you, full of exciting possibilities. I offer my clients personalized and comprehensive vacation planning so that you will have an unforgettable, stress-free vacation. As a result of my relationships with the resorts, hotels, and luxury cruise lines, I can garner pleasant surprises on many vacations that are not available to people who book online.
Read More >
Satisfied Customers Feedback

OMG. Sheila organized THE BEST 40th Anniversary trip…an African Safari! We did South Africa, Zimbabwe, Botswana and Namibia. About 4 days in each place. Land and water safaris. Exhilarating. We saw the big 5 several times over. Amazing. She let everyone know about our anniversary and EVERYONE made it so special for us. We truly don't know how we will ever top this one!

Ric & Kim M.,
Satisfied Customers Feedback

Sheila once again came through for me. I took a chance and had her plan my Hawaii Honeymoon in 2014 after meeting her at a bridal show. My husband and I were not disappointed. So it came as no surprise that I asked her to plan my 40th b-day trip to Paris & Rome. She once again made it amazing! I gave her my budget and my list of things that I wanted to do and she made it happen. She was even kind enough to let me know that it would be pointless for me to book/pay for some tours when I could do them on my own. The effortless way she sets up the tours and has the...

Elizabeth & Victor A.,
Satisfied Customers Feedback

Typically I spend countless hours fussing over every detail and searching for the best deals when I travel (to the point where it is exhausting and not fun). I was finally ready to book a vacation that didn't feel like work and called Sheila at Carefree Romantic Vacations. She was extremely helpful, listed carefully to what I wanted, and planned an unforgettable trip. The money and hassle you will save by letting these experts plan your next vacation is priceless. Not doing the planning made it so much more enjoyable! Thank you, Sheila!!!

Steve & Lisa H., Hawaiian
Satisfied Customers Feedback

After several years of discussing the possibility of traveling outside of the United States with Sheila my wife and I decided to book a trip with her for our 30th Wedding Anniversary.  Sheila showed us several locations and we decided on the east coast of Mexico.  After discussing with her about our wish list and concerns she found us the El Dorado Casitas Royal resort outside of Cancun.  It was the perfect fit for us.  We asked for a romantic and quiet location and we couldn't of been more happy with resort.  We can't wait to book our next trip with Sheila. Want to have a great celebration?... CLICK HERE

Kirk & Dana, Mexico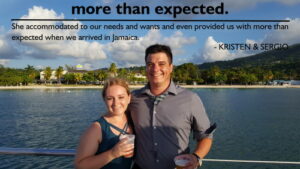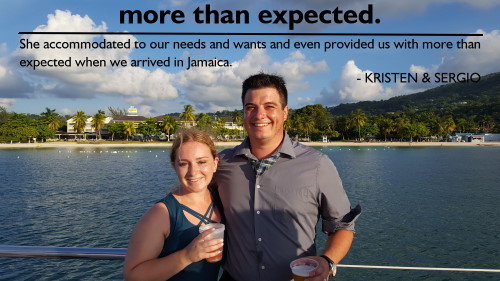 Satisfied Customers Feedback

I cannot stress enough what a wonderful choice we made in booking our honeymoon with Sheila! I was recommended to use Sheila and her travel services from my cousin who was married two years ago and booked a wonderful honeymoon to Costa Rica! I went to a bridal show and met Sheila and my husband and I decided to use her as our agent. We both have never used a travel agent before but she was wonderful! We had a phone consultation and talked about the possibilities within our budget and Sheila was able to open our eyes to new honeymoon options that we were able to afford. After our phone consultation we were ready to go to Jamaica! Sheila...

Kristen & Sergio V., Jamaica
Contact Me

Contact Me

Email

Sheila@CarefreeRomanticVacations.com

Call

(909) 255-1410 or
(800) 733-7471
(leave me a detailed message please)

Carefree Romantic Vacations, INC

ST 2099900CA, ST14303FL, IA 936IA, 2005-0012NV, 602904620A
Latest Posts Read all our blogs...