Crafted Experiences Unforgettable, Stress-Free Vacations
Hot Deals and Offers
Check out our best offers in cruise and land vacations. Search with your offer ID.
Sweepstakes
Sign up for the chance to win a
FREE vacation!
Why Choose Me?
I translate your desires into reality to create dream vacations for you, full of exciting possibilities. I offer my clients personalized and comprehensive vacation planning so that you will have an unforgettable, stress-free vacation. As a result of my relationships with the resorts, hotels, and luxury cruise lines, I can garner pleasant surprises on many vacations that are not available to people who book online.
Read More >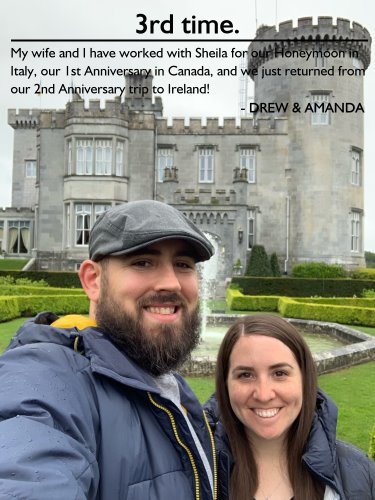 Satisfied Customers Feedback

Once again Sheila came through for us big time! My Wife and I have worked with Sheila for our Honeymoon in Italy, our 1st Anniversary in Canada, and we just returned from our 2nd Anniversary trip to Ireland! Sheila has put in the time and gone to so much of the world herself; she know's where to go, what to do when you're there and how long or short you should spend in a given city. Sheila affords us the ability to leave the planning to her. She takes our initial ideas and runs with them. So once we're there, we can just take everything in and enjoy ourselves. For as long as she's doing this, Sheila will be planning...

Drew & Amanda L.,
Satisfied Customers Feedback

Sheila was awesome, very detailed and everything she put together was first class. We booked a Mediterranean cruise with stops in Barcelona, Italy and France. She booked our hotels when we decided to spend extra time in Barcelona. They were extremely clean, comfortable and very friendly and helpful. She also booked private tours for our stops in France and Italy. The private tours were first class as well. Sheila will be our go to gal for all of our future travels. Thanks again Sheila! START YOUR OWN VACATION HERE

Terry & Kelly C.,
Satisfied Customers Feedback

My husband and I were so busy planning our wedding that we didn't have the time or energy to plan our honeymoon in Italy. We are SO glad that we found Sheila to plan EVERYTHING!!!! She took care of the hotels, transportation between cities and travel from the airports. She put everything in an amazing app for our phones. All the ticket vouchers and tour information along with flight details...Sheila didn't miss anything!!!! She even sent us a printed packet in the mail before we left just in case so we had a hard copy. The trip through four cities in Italy was a honeymoon to remember! There was so much care and personalization that went into booking the trip....

Brooke & Mike P.,
Satisfied Customers Feedback

The Grande was a great place.  Met my expectations except for the overwater bungalow wasn't as far out into the ocean as I thought it would be. I guess I was thinking about Le Meridien in Bora Bora when we were out in what they referred to a room in the horizon.  The bungalow was fabulous, otherwise. All three Butlers were attentive and quite resourceful.  We appreciated their service.   All three met our expectations.  Phil and I stayed in our bungalow for most of the trip reading and eating  :)   The flights were fine.  Too bad there isn't a direct flight.  Our luxury transport up was via a Lexus and going back to the airport in a really nice BMW.  Staff...

Phil Ruggera & Sarah Cook Ruggera, Marriage and Family Therapist,
Satisfied Customers Feedback

OMG. Sheila organized THE BEST 40th Anniversary trip…an African Safari! We did South Africa, Zimbabwe, Botswana and Namibia. About 4 days in each place. Land and water safaris. Exhilarating. We saw the big 5 several times over. Amazing. She let everyone know about our anniversary and EVERYONE made it so special for us. We truly don't know how we will ever top this one! START YOUR OWN AFRICAN SAFARI HERE

Ric & Kim M.,
Contact Me

Contact Me

Email

Sheila@CarefreeRomanticVacations.com

Call

(909) 255-1410 or
(800) 733-7471
(leave me a detailed message please)

Carefree Romantic Vacations, Inc.

CST 2140527-70
Latest Posts Read all our blogs...