Best Romantic Hotel for Your Honeymoon in Cape Town
Sheila Cannon
Jul 17, 2017
0
Do you believe things happen for a reason? When our Cape Town hotel got switched unexpectedly, I was a bit perturbed at first. I finally decided it had happened for a reason when I saw both hotels.
We were supposed to stay at More Quarters Luxury Cape Town Boutique Hotel for our last two nights in Cape Town, South Africa before heading out on our African safari. The hotel was full with a big group coming in, so they moved us to their sister property next door; Cape Cadogan Boutique Hotel.
Both are lovely boutique hotels, however More Quarters seems like more of an apartment, with larger rooms and full kitchens. I would say More Quarters is great for families.
Cape Cadogan is much more quaint and is one of the most romantic hotels in Cape Town. First of all, you can tell by the pictures. Our room has a lovely bathroom with a huge tub and gigantic walk-in shower with dual shower heads. There is a little, private patio off the bathroom with a small, bubbling fountain. Their most noteworthy room; the Superior Luxury Suite, has a fireplace, which is very cozy and romantic in the winters here. It also has a private plunge pool. Consequently, this would be the perfect room to start off an ultra-romantic honeymoon.
Their guest book is full of notes from guests thanking them for their special touches. They seem to love the old-fashioned touch of warming the beds with hot water bottles in winter along with their turn down service. They enjoy the complimentary canapes with port and sherry in the evenings. Handmade dessert is served for high tea in the afternoons. (Today, we had the most delicious strawberry cheesecake. Hubby and I split one, but I have to confess I went back for my own slice later). But, most of all the comments from couples are about their friendly, professional and helpful staff. As a result, countless honeymooners said staying here was the perfect start to their honeymoon before heading out to see the big 5.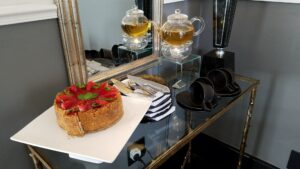 Breakfast is delicious with eggs to order, hand cut bacon and the most delicious croissants ever. Many other choices will please any palate. There are many wonderful restaurants within walking distance. The Victoria & Alfred waterfront with its many dining venues is a short cab ride away. Because there are so many unique choices, Cape Town is considered a foodies paradise.
Cape Cadogan is close to everything you want to see and do in Cape Town. It's very close to Table Mountain and your rate includes a complimentary shuttle to several places, such as the colorful Bo-Kaap area and the V & A Waterfront. Seeing penguins, shopping, hiking and wine tasting are some easy going things you can do. Contrast that to adventurous activities such as shark cage diving, surfing, paragliding, kite surfing or riding a camel. In addition, ferry over to Robben Island where Nelson Mandela was imprisoned or go whale watching. These are just a few of the activities you can do in and around Cape Town. Therefore, Cape Cadogan is a great base for So. African exploration.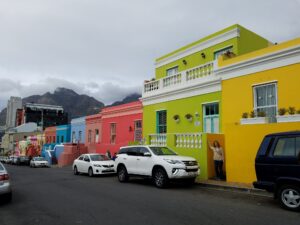 Most things happen for a reason. Therefore, I believe my husband and I were meant to stay here and enjoy a couple of romantic days and nights. Because of our stay, I'm delighted to recommend it heartily to my honeymooning clients, heading out on an African safari honeymoon. In conclusion, I highly recommend Cape Cadogan to any couple headed to game drives or the great migration in Africa.
I am hosting a Safari Night in September in the Yucaipa/Redlands area! Take advantage of this great opportunity to come and learn more about Africa. It's a huge continent with so much to see and do. Therefore, you need to learn a lot and get expert help planning a visit to this wonderful place. Please click here to register to get further information as it becomes available.
CLICK BELOW to reserve a complimentary consultation and get expert help planning your own romantic, luxury African safari. As a result of my experience, I will ensure your trip to Africa is African Amazing!
Let's Work Together !
Schedule a phone meeting with me using my convenient online scheduler.
Click Here to Start
Top 5 Things to Take with You for a Romantic Getaway
Set the Stage for Romance
Use these Ancient Seduction Secrets
Don't Forget the Most Important Item!