Bora Bora is Breathtaking
Today I came across an amazing video by Veerdonk Visuals on Bora Bora, Tahiti and I want to share it with you. It captures the essence and excitement of a stay in Bora Bora very well. I've been there and the other surrounding islands of French Polynesia several times and each visit is as breathtaking as the first!
I also want to share more on what you'll experience on a honeymoon trip, special anniversary trip or an ultra-romantic getaway in this tropical paradise.
You'll first arrive in the area by a smallish plane on a small motu or islet. You'll be met at the airport by a speed boat that will whisk you straight to your resort. You'll marvel at the colors of the water! Depending on where your hotel is located, your ride will take from about 15 minutes to 45 minutes. It's such a fun way to arrive at a hotel to celebrate something special.
Bora Bora Hotels
There are several hotels to choose from, not all of them great, so I can help you choose wisely. The most desirable hotels are the farthest distance.
You can enjoy beautiful views of the mesmerizing ocean, gardens, motus and, last but certainly not least, that breathtaking tropical mountain; Mt. Otemanu. I can't take enough pictures while I'm there.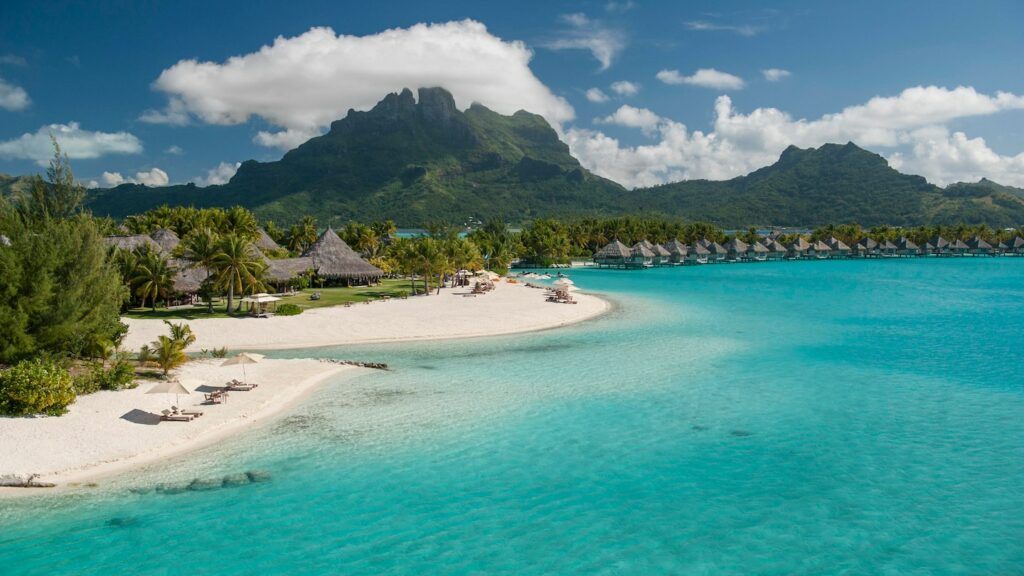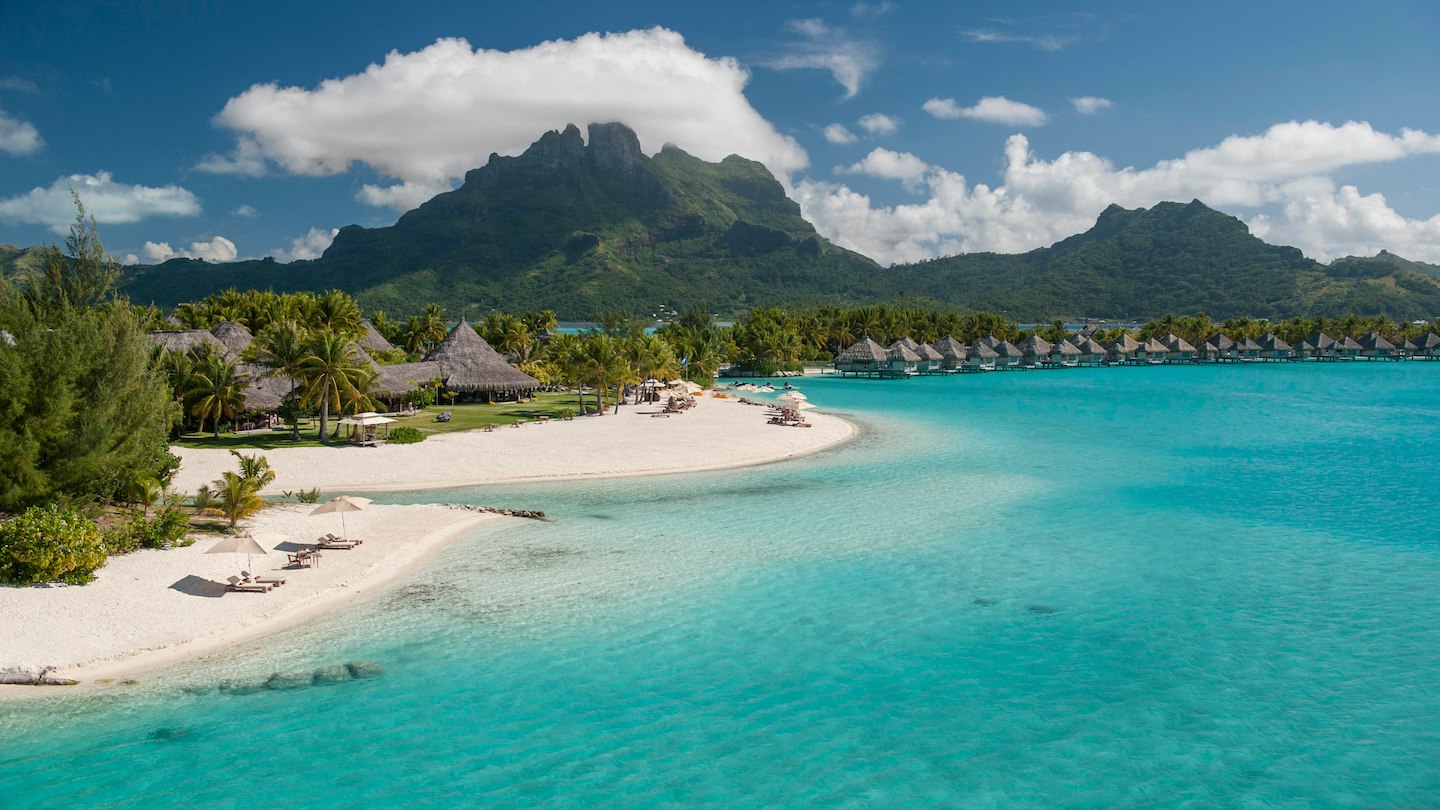 Most of the beaches in Bora Bora are white sand, but some are a bit corally. The waves are very small, since Bora Bora is in a lagoon, protected by an outer ring of motus surrounding the mountain. This makes local waters very calm for swimming. I love the resorts with an infinity pool to float around in for cooling off and watching the beautiful lagoon and mountain. Or, better yet, get an overwater bungalow with your own private pool! You can relax and hang out watching the lagoon or having fun together in the privacy of your own bungalow.
Bungalow Variety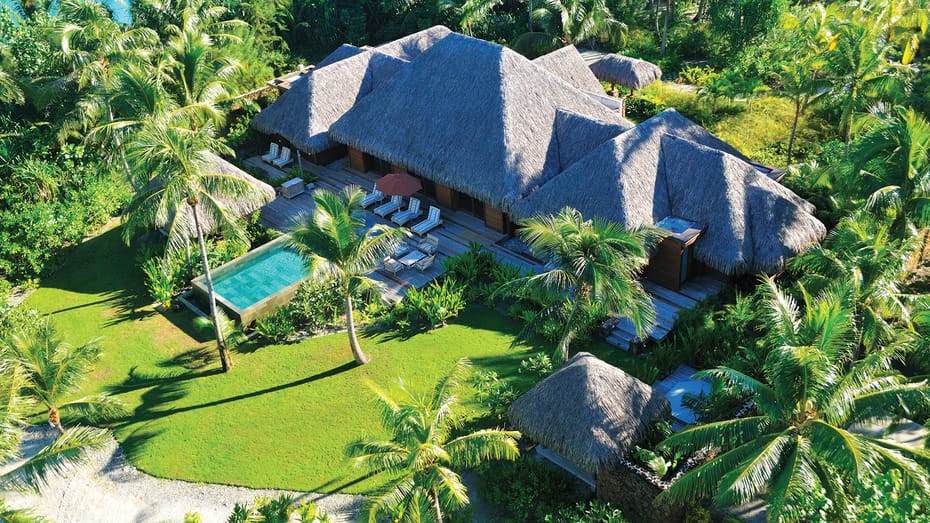 I would definitely recommend staying in an overwater bungalow your entire stay. If funds are limited, maybe three or four nights in a garden or beach bungalow, followed by three or four nights in an overwater bungalow. Some are such a cocoon of comfort, luxury and relaxation that you may never want to leave. Most of the overwater bungalows have direct entry into the clear lagoon, so you can hop in any time you want. Most have glass panels in their floors, so you can see the fish right from your bungalow. My tip is to get one over coral, because that's where the fish hang out.
One of the ways that you can pamper yourself during your stay, like the video showed, is with a breakfast served right to your overwater bungalow or suite by outrigger canoe. This is so fun and romantic. Another is with a relaxing spa treatment for two. One Bora Bora hotel has a spa high on a mountain, so you can look over the lush gardens, stunning overwater bungalows and gorgeous multi-shades of blue lagoon. Another has their spa over a lagoon filled with coral and fish, so you can watch the fish swimming around while you're getting your massages. This was a dream come true for me!
Dining in Bora Bora
Breakfast will most likely be included with your room, but other meals will not. I always recommend that my clients prepay for their dinners, because they save money and they relax a bit more, not worrying about a huge bill at the end of their stay.
There are a few restaurants on the main island, if you want to dine outside your resort. I highly recommend two restaurants; the world famous and kitchy Bloody Mary's or the more refined St. James Bora Bora.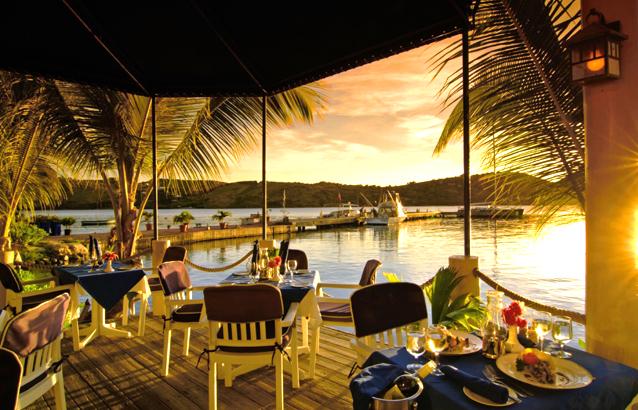 Polynesian Adventures
There are lots of fun things to do in Bora Bora; shopping in the main village of Vaitape (pearls make a great souvenir), a guided hike, a Jeep safari, a jet ski tour around the island or a fun snorkeling trip. I highly recommend something on the water, so that you can see much more of the island once rested from your journey. My favorite and the one many of my clients choose is a combo tour which includes snorkeling in a beautiful coral garden, feeding sting rays, swimming with black tip reef sharks and finishing with a fabulous BBQ lunch on a private motu. So fun!
A great way to end your fabulous stay in Bora Bora is with a private dinner on the beach or some other stunning location. One of the best spots for this is at the Conrad Bora Bora Nui. The last time I was there, they showed me their new deck perched high on a mountain with views of Mt. Otemanu and the gorgeous lagoon. You'll dine at sunset, enjoying the views, a romantic and delicious dinner and your last moments in paradise.

To get the best prices and availability, it's best to plan a stay in Bora Bora many months in advance. If you would like to talk with me privately about what your own dreams are, you can make an appointment by visiting www.AppointmentWithSheila.com.
Let's Work Together !
Schedule a phone meeting with me using my convenient online scheduler.
Click Here to Start
Top 5 Things to Take with You for a Romantic Getaway
Set the Stage for Romance
Use these Ancient Seduction Secrets
Don't Forget the Most Important Item!