A South Africa Safari Honeymoon or Vacation
Sheila Cannon
Jan 21, 2016
0
A South Africa Safari honeymoon or A South Africa Safari vacation – is this your dream?
Do you want to share something with your husband or wife that neither of you have done before?  Chances are that a South Africa Safari honeymoon or South Africa Safari Vacation would fulfill that dream!
Why would you want to go to South Africa?  There are so many reasons. Here are a few; culture, heritage, it's SO romantic, once you get there it's very affordable, incredible wildlife, dramatic coastline and the country is very safe.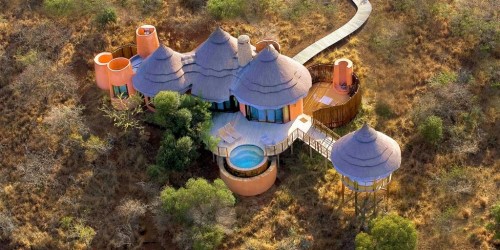 The Thanda Private Game Reserve is at the top of my list of romantic lodges in South Africa. In fact, it is the winner of the 2015 World Travel Awards "World's Leading Luxury Lodge". You can opt for the main game lodge, but I say "go for the rugged refinement of the safari-style tented camp"!
They offer a Honeymoon Tent which is a sophisticated mix of romance, privacy and comfort in the heart of the African bush. You can get cozy in a king-sized bed in your spacious bedroom, and a comfortable separate lounge area for relaxation. Your tent will be air conditioned, so you'll be comfortable, even in KwaZulu-Natal's humid summers. One of the most romantic features you'll love is the outdoor shower and Jacuzzi. Imagine these spectacular panoramic views of the reserve while bathing or….  Wow!
The game reserve's Romance Package includes:
Private moon-lit dinners
Romantic turn-downs
Scented baths
Champagne on ice
Love Box surprise gift
Chocolate fondue for two
Beaded Zulu love necklace
Complimentary 45-minute Romancing the Stone massage
Traditional Zulu blessing beneath the romantic Marula tree
This is one camp where you won't have to eat dirt. In addition to the seasonal game meat, which is entirely optional, you can savor South African cuisine, spiced with fresh herbs from their garden. This is just one flavor in the potpourri of dishes the Thanda chefs will prepare for you, accompanied by excellent wines.  One of the best experiences at the camp is the drama of the boma, or long dinner.  You can follow the setting sun from behind the flames of a roaring fire.
The word Thanda means love in Zulu and is in the spirit of "the love of nature, wildlife and dear ones".  This lodge is an enchanting setting to nurture or rediscover romance. You'll enjoy romantic turndowns, bush dinners and magical foam baths by candlelight. Sound inviting?  This is an exquisite venue for honeymoons, bush weddings and proposals.
From Thanda, your adventurous sides will come out as you venture out to early morning and late afternoon game drives. You'll be searching for the elusive Big Five; lion, leopard, elephant, buffalo and rhino. Your drives will be conducted in open Land Rovers under the supervision of knowledgeable rangers and trackers, not only finding the game with their expert senses, but also watching out for your safety. Other wildlife you'll find at Thanda include the wild dog, endangered black rhino, cheetah, hyena and warthog as well as an abundance of bird life. The experience of seeing all the big game is an once-in-a-lifetime AMAZING experience to share with your partner.
Once you are on the ground, the exchange rate is so good that you can splurge and splurge.  It barely causes a dent because the exchange is so good.  Especially for honeymooners, this is really nice in comparison to somewhere like Tahiti where every meal is $100!  Sure, there is a price tag to get there, but once you are on the ground the cost is practically nothing.
I can arrange the best South Africa trip for you to share with your partner.  It will be something that you'll talk about forever.  To get started, simply either click on the link below or call me at 909-255-1410. I look forward to helping you fulfill your adventurous dreams.
click here if you would like to get started!
Let's Work Together !
Schedule a phone meeting with me using my convenient online scheduler.
Click Here to Start
Top 5 Things to Take with You for a Romantic Getaway
Set the Stage for Romance
Use these Ancient Seduction Secrets
Don't Forget the Most Important Item!