How to Book a James Bond Honeymoon
Sheila Cannon
Sep 10, 2015
0
Phang Nga is the famous backdrop for the 1974 James Bond movie The Man with the Golden Gun.  Visitors to Thailand still flock to the bay to appreciate the mysterious limestone landscape for which this area is famous.  If you wish to experience a James Bond Honeymoon, those same views can be enjoyed from the exclusive Six Senses Yao Noi in Thailand.
Located on Koh Yao Noi, this 24-acre resort offers the ultimate in luxury. The resort is just a 40 minute boat ride from Phuket's northeast coast or just 10 minutes by helicopter.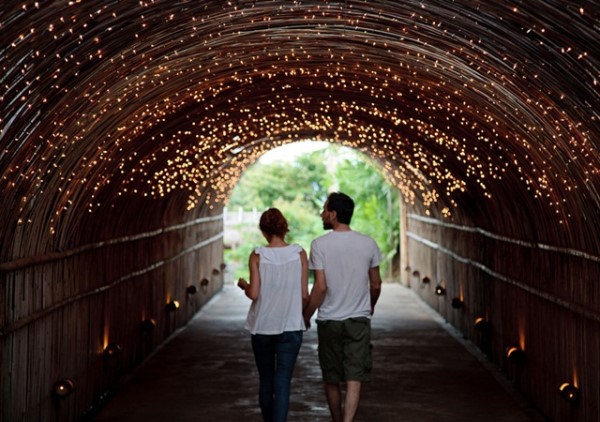 Couples will enter through a long narrow tunnel which heightens their experience. Villas stud the rocky coastline and wrap around a rocky knoll.  Their natural timber and thatched roofs help make the villas blend into their forested surroundings.
Food and wine are taken seriously at Yao Noi. Dine in The Living Room & Terrace or close by to estuarine mangroves in The Dining Room. The chilled and glassed-in wine cellar houses an award-winning collection. Guests can dine on Thai, tandoori and pizza. The hotels own garden and small farm insure fresh herbs and eggs.  You can dine in your room whenever you like; from a champagne breakfast to a barbecue on the terrace. Thai cooking classes and wine-tasting sessions are also offered for guests, and there is a yoga platform and a mangrove trail. Drinks are served in the cozy Den or The Main House's sunken bars. The pastry shop is a popular hangout, with free ice cream daily until 7 pm.
Most visitors come to indulge in pampering in the Six Senses Spa. Treatments and therapies can be done indoors or in shaded retreats in the outdoors. Tennis courts are available, as well as a fully equipped gym.  Bike tours and cultural visits can be arranged by the staff. The Six Senses gallery offers unique souvenirs, jewelry and clothes.
Wooden floors throughout each air-conditioned villa and expansive sundecks around each private pool maintain the ecofriendly concept. The unique rooms open up so that they become part of the landscape but then can be closed to retain the air-conditioned coolness when desired. Mosquito nets around four-poster beds are more decorative than functional and help to create a romantic space.  These luxurious rooms will make you feel like your experiencing a James Bond Honeymoon because of more than just the view.
Enclosed baths in each villa overlook the sea and there are outdoor showers.  Each villa has a private infinity pool, which flows off into the surrounding jungle.  You'll find the finest luxuries in each villa; hi-fi system, wine fridge and private bar.  Deluxe pool villas spread over two floors, and pool villas have a pool separating two buildings.  Hideaway Pool Villas are nestled in the hillside gardens while Ocean Villas offer incredible views of Phang Nga Bay.  The Panorama Pool Villas have prized, 180-degree views of the water.  Beachfront Villas add private staircases that lead directly to the private stretch of sand.
The most exclusive accommodations here are The Retreat and The Top Reserve.  There is only one of each.  The Retreat has two master bedrooms, a kitchen and in-room butler service.  Top Reserve has a spa suite with its own steam room and sauna, two en-suite bedrooms, a master bedroom and a private gym.  For the young and the young at heart, there is a waterslide into a half-moon pool.  A private wine cellar puts it over the top.
Just a short boat ride from the island you can kayak and sight see at James Bond Island.  You can also scuba dive; exploring the underwater sea life of Phang Nga.  Rock climbing is also available here and romantics can indulge in an early morning sunrise cruise, while they indulge in a sumptuous breakfast basket.
With Six Senses philosophy of creating exceptional experiences, it's not surprising that the resort has been named on several lists of top hotels.
For help crafting your own James Bond Honeymoon, call Sheila with Carefree Romantic Vacations at 909-255-1410 or complete our honeymoon survey and make an appointment for a complimentary consultation at www.HoneymoonAppointment.com.
Want some free honeymoon advice?  I'll be at a Southern California bridal show soon.  Click here to find out where.
Let's Work Together !
Schedule a phone meeting with me using my convenient online scheduler.
Click Here to Start
Top 5 Things to Take with You for a Romantic Getaway
Set the Stage for Romance
Use these Ancient Seduction Secrets
Don't Forget the Most Important Item!