Do Travel Agents Still Exist?
Next week is Travel Agent Awareness Week.  Why this special week?  Many people don't even realize travel agents still exist.  This is a statement I hear frequently; "I didn't know there were still travel agents around".  Although that's not an issue with my readership, here's why it's in your best interest to let me help you with your next romantic vacation or honeymoon.  Yes – travel agents are indeed still around and more valuable than ever.
Here are just a few benefits to working with me:
So You Don't Waste Money on the Wrong Vacation – In many cases, I've been there.  I've seen the resorts, know the locations and take the time to get to know you and what you want to experience on your honeymoon, destination wedding, special anniversary trip, renewal of vows or romantic vacation.  Because of my extensive knowledge (I've been to all 7 continents) and because I take the time to listen to you and get to know you, I'm able to match you with the right experience.
So You Can Save Time and Avoid Stress – There is so much information on the internet now, it's very hard to know what's reliable and what's not.  Selecting a vacation solely on reviews and website pictures can sometimes lead to disaster.  I specialize in romantic vacations, so I'm able to zero in on the best options for you very quickly.  I, not you, will be the one who sits on hold, checks prices, makes your payments and monitors your flights for changes by the airlines.  Should a hurricane close the resort where you were going to have your destination wedding, I, not you, will be the one making your new arrangements and rebooking your guests.
So You Can Touch the Sand
– During my travels, I've collected the sand from the countries I visit.  If we meet in person, you can touch the sand where you'll be leaving your first footprints as husband and wife and taking a romantic stroll.
So You Can Get Special Treatment – I often get special treatment for my clients that they would not be able to get on their own.  Because of my relationship with suppliers, my clients are greeted like a valued guest; unlike those who book on the large, online travel agencies, who don't have anyone advocating for them.  My clients usually have special amenities waiting for them in their room and occasionally get upgrades.  I also request preferred locations for my client's suites, which the resorts are happy to fulfill for me, as long as there is availability.  I also can create a complimentary honeymoon registry for you and ensure that you receive special honeymoon amenities at your resort.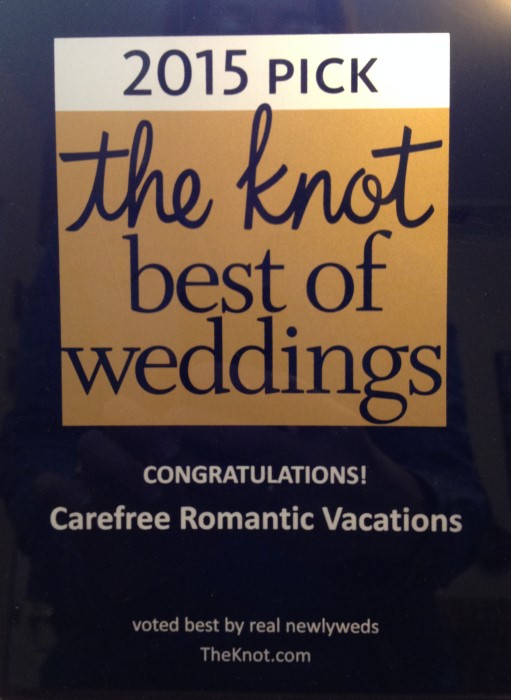 So You Can Get Award Winning Service
– I've heard from many online agencies that their agents are limited on the number of minutes they can spend with each client on the phone, if there is even a phone number that you can call.  I spend as much time with you as you need, to make sure that your romantic vacation is amazing and magical.  I go the extra mile to find great restaurants for you, book special tours, and candlelit dinners on the beach or even golf tee times.  I've been awarded Best of the Knot for 2015 (a popular website with everything you need to plan your wedding), and am the only agent in all of Orange County and the Inland Empire to do so.  I'm a Redlands travel agent, however I work with clients all over the U.S.
So You Can Get Special Gifts – I usually include a surprise gift or two with your travel documents.  (I won't tell you what it is.  I'll let you be surprised)!
So You Have an Advocate Before and During Your Vacation – Should you experience any issues before you travel, such as the resort notifying us before you leave that they'll be under construction.  Or, during your trip, if your butler isn't performing as expected, I will go to bat for you.  I will take care of any problems prior to your departure or work with the resort to correct any issues that arise during your stay, so you can relax and enjoy your vacation, while you leave it in my hands.
So You Can Get Travel Rewards – I can register you for any post-travel rewards at resorts, so you don't miss out on bonus points.
Don't just take my word for it; check out the reviews from my raving fans.
So, you can see that I'm really committed to making your honeymoon, destination wedding, special anniversary trip, renewal of vows or romantic vacation the best experience possible.  If you are looking for a true travel partner to craft a magical and memorable romantic vacation, then I can't wait to get started.  Please visit my appointment scheduler to complete my short romantic vacation survey and select an appointment time for your free phone consultation.  If you have any questions, please call me at 800-733-7471.  I look forward to speaking to you soon.
Let's Work Together !
Schedule a phone meeting with me using my convenient online scheduler.
Click Here to Start
Top 5 Things to Take with You for a Romantic Getaway
Set the Stage for Romance
Use these Ancient Seduction Secrets
Don't Forget the Most Important Item!