Best Honeymoon and Romantic Vacation Destinations – II
Sheila Cannon
Jul 09, 2015
2
These are some of the best romantic vacation and honeymoon destinations in the world. We did this list awhile back, so here's another list. There are others, of course, but these stand out when romance is the top priority.
Grenada in the Caribbean – Grenada located in the southeastern Caribbean just north of Trinidad and South America.  It's home to one of the Caribbean's finest beaches, Grand Anse. You'll experience smooth, white sand under your feet, water as clean as clean glass and glorious sunsets.  Local man Jaymoney says "I live in Grenada. I telling all yu the beach nice man. Go try it nah".  Trimmed with 45 beaches and countless secluded coves, Grenada's popularity has grown as an exotic, friendly vacation destination. It's also famous for its spices.  Two off shore islands, Carriacou and Petite Martinique, are perfect for day trips, fishing adventures or diving and snorkeling excursions. Choosing to honeymoon in Grenada it will actually help couples relax and restore their sense of peace.
Lanai, Hawaii – One of the smaller islands in the Hawaiian chain, Lanai is like a perfect pearl set amidst the sapphire blue seas of the Pacific Ocean. Fostered in an exclusive culture of quiet elegance and romantic seclusion, this magnificent island lets couples feel as far away from civilization as they can get. Stroll along the silky-smooth sand on deserted beaches, float lazily through azure waters and behold sunsets that set the standard for all others. For those with the need to do more, you can play on championship golf courses, witness humpback whales and spinner dolphins frolic in the surf, and hike along trails that take you past ancient petroglyphs thousands of years old. Lanai is one of the most remote spots on earth. And therein lays its greatest charm.
Punta Cana, Domincan Republic – Punta Cana, on the east coast of the Dominican Republic, is a beach lover's paradise with 30 spectacular miles of the most beautiful beaches anywhere on earth. Imagine strolling barefoot along the beach, below hundreds of coconut palms swaying gently in the refreshing Caribbean breeze; exploring the underwater world along 19 miles of coral reef; or basking in the ever-glorious sunshine.  Away from the beach and the turquoise Caribbean Sea, you'll find outstanding golf courses, casino gaming, and a wonderful collection of pampering, all-inclusive resorts. It's the perfect place for a romantic getaway.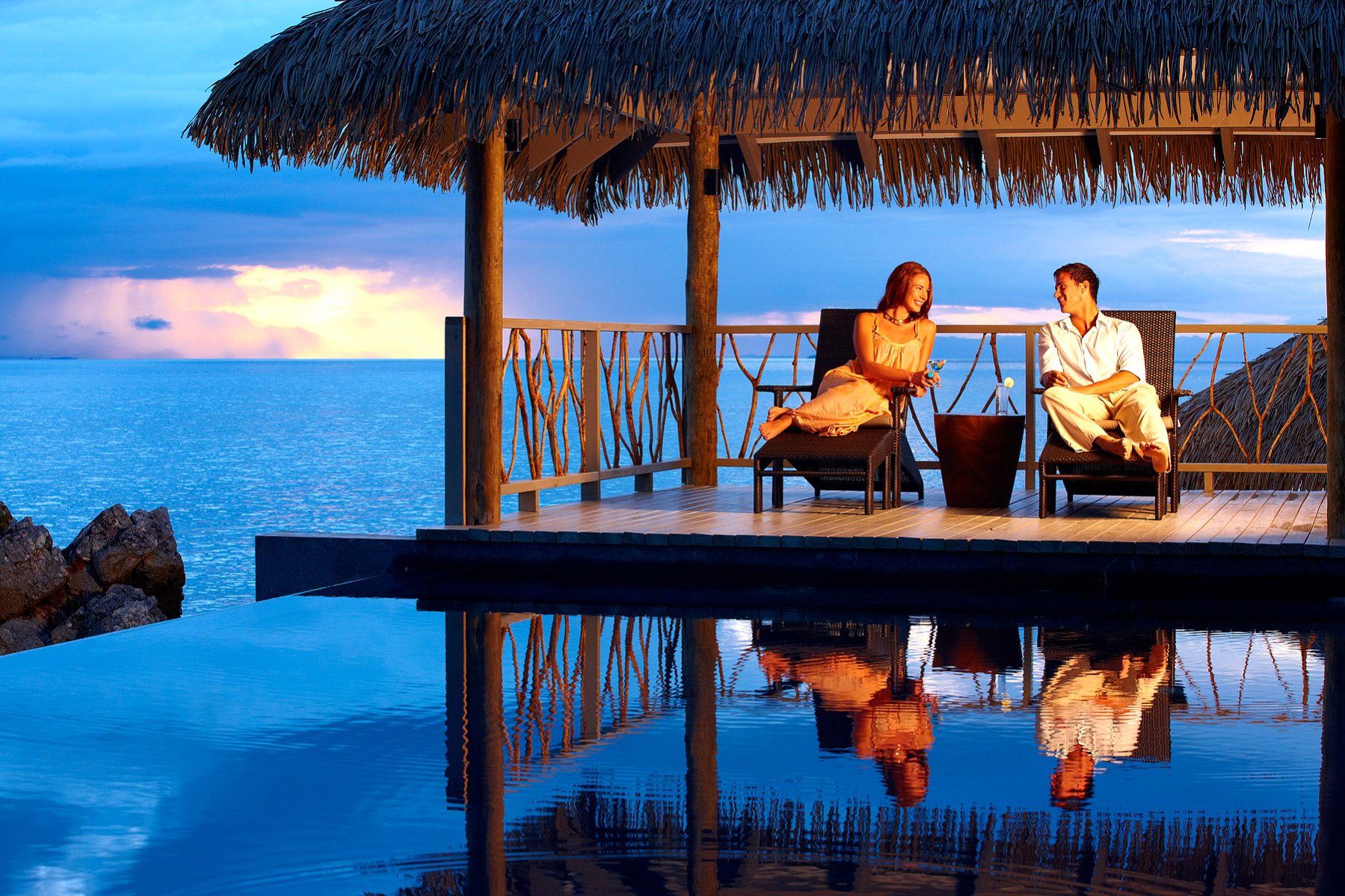 Fiji – The three hundred and twenty magical, unspoiled Fiji Islands lie at the crossroads of the Pacific. Each offers an unrivaled tropical paradise with azure waters, white sandy beaches, coral islets and tropical resorts. Fiji is recognized as a world premier dive destination with year round sunlight and warm waters. It also offers superb golf courses, tennis, water-skiing, wind surfing, sailing, fishing, bird watching, horseback riding, and so much more. A once volcanic area, it is home to rugged mountains, lush green rainforest, waterfalls and remote villages.  Couples can choose relaxation or adventure, or why not combine both?
Riviera Maya, Mexico – The Riviera Maya, south of Cancun, has white sandy beaches, coral reefs, Mayan ruins, and lush tropical foliage set against the brilliant blue-green Caribbean. The area offers swimming, snorkeling, and diving. If you prefer dry land, the platforms above the shore of Xel-Há (Shell-ha) provide an excellent view of the sealife. Playa del Carmen has restaurants and open-air shops along the waterfront. Xcaret (Sh-kar-et) combines interesting ruins with beautiful coves, inlets, and an underground river. The Riviera Maya is an ideal destination for couples who love the outdoors, tranquility, and a more relaxed and romantic vacation alternative to faster-paced Cancún.
I'm Sheila Cannon and I help career focused couples, who have no time to plan, have the honeymoon, destination wedding or romantic vacation of a lifetime custom designed for them without them having to lift a finger.  If that's you, click here to get started putting me to work for you!
Want some free honeymoon advice?  I'll be at a Southern California bridal show soon.  Click here to find out where.
Let's Work Together !
Schedule a phone meeting with me using my convenient online scheduler.
Click Here to Start
Top 5 Things to Take with You for a Romantic Getaway
Set the Stage for Romance
Use these Ancient Seduction Secrets
Don't Forget the Most Important Item!