Best Honeymoon in the Caribbean – Jade Mountain
Jade Mountain may truly be one of the most spectacular
ly romantic environments you will ever have the opportunity to enjoy with the love of your life. Set on 600 acres in St. Lucia, this resort is one of the World's most extraordinary tropical escapes imaginable and ideal for the best honeymoon in the Caribbean.The organic architecture of Jade Mountain brings harmony between human habitation and the natural world through exquisite design. Trees for the resort's tropical hardwood flooring and trims were personally selected from the rain forest of Guyana, comprised of eleven exotic woods.
 The blush toned coral plaster coating the walls is quarried from Barbados. Individual bridges lead to exceptional infinity pool sanctuaries.Jade Mountain is the only resort with sweeping views of both iconic Piti and Gros Pitons, the iconic mountains of St. Lucia, which seem to float on the Caribbean Sea. Two soft sand beaches beckon you to relax on them and explore their pristine coral reefs, just off shore. The view is so delightful; you won't want to close your eyes.
Jade Mountain was designed to be a carefully orchestrated sensory adventure. Though open to the elements, each sanctuary is utterly private. Imagine bathing with your partner in a whirlpool tub, mounted on a pedestal with each glance away more spectacular than the next. Chromatherapy is used in your bathroom and infinity pool; therapeutic watercolors for the mind and body; all part of the sanctuary experience.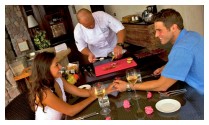 You'll find Jade Cuisine to be delicious and exotic. Several different menus are available, from grilled to vegetarian. Chef Allen says "Jade Cuisine is a celebration of the bold flavors of the world's tropical cultures in my kitchen at Jade Mountain". At his fingertips is an organic garden in the historical plantation on property.You may choose to enjoy any and every meal in your sanctuary, if you wish; with special, romantic menus available.
You'll find the staff amazingly friendly and genuine. The services of the Major Domo are at your disposal, who remains as un-intrusive as possible, while being on hand to fulfill your every need.
A specially selected spa menu 
has been designed for guests to enjoy in the privacy of their sanctuaries or in the boutique spa; Kai en Ciel. Also, the Kai Belté spa located on Anse Chastanet beach and the Kai Mer spa cottage are available to all Jade Mountain guests at any time. Would you like to try the romantic couples ritual; "Alchemy of Two"?
The Celestial Terrace is an idyllic spot for a marriage proposal, romantic dinner, renewal of vows or wedding ceremony. Proposals are treated with the excited exuberance of a child at Jade Mountain and the staff will gladly assist you in crafting a wonderful surprise for your love.
Enjoy an array of walking and hiking
options as you take in the magnificent scenery and enjoy some exercise.  And, because the resort sits on the southern part of the island, major attractions such as the rainforest, Botanical Gardens, Drive-In Volcano and Sulphur Springs are all within easy reach.
Jade Mountain feels like heaven on earth. It will set the stage for the most unforgettable honeymoon, wedding or anniversary of a lifetime !
I'm Sheila Cannon and I help career focused couples, who have no time to plan, have the honeymoon, destination wedding or romantic vacation of a lifetime custom designed for them without them having to lift a finger.  If that's you, click here to get started putting me to work for you!
Let's Work Together !
Schedule a phone meeting with me using my convenient online scheduler.
Click Here to Start
Top 5 Things to Take with You for a Romantic Getaway
Set the Stage for Romance
Use these Ancient Seduction Secrets
Don't Forget the Most Important Item!