Reviews | Cruises
Desert Hot Springs Couple Takes a Rhine River Cruise for their 15th Anniversary
My wife and I were looking to go on a trip to Europe for our 15th wedding anniversary. We were trying the usual google searches and other online services and not able to get what we wanted. We were referred to Sheila and Carefree Romantic Vacations and WOW!!! What an incredible experience from start to finish. Not only was the trip amazing, we took a river cruise, but with Covid we had to make multiple changes to both the cruise and the flights. Sheila was by our side the entire way and put in a ton of extra effort to make the changes and really guarantee our trip went smoothly. I highly recommend using her services.
Boise, ID Family of 10 Enjoys a Cruise to the Caribbean With No Stress
We received Sheila's name from friends who had utilized her services many times to plan their trips. From the moment we spoke to her and explained our desire to take our family of 10 on a once in a lifetime cruise, we knew she was the one to help us.
Sheila was very responsive and very patient with all of my questions. She recommended the perfect ship (based on what we told her we wanted) and made excellent recommendations for our excursions.
Knowing the reservations were made for our flights, room bookings on the ship and our excursions was such a HUGE relief. Coordinating a family of 10 was a bit overwhelming for me, but Sheila made all of my anxiety disappear.
We would highly recommend her for any trip you have. Trust me….it's worth having everything taken care of so you can just relax and enjoy the experience!
Newly Retired Banning Couple "See Everything" in Alaska on Tauck Expedition
Sheila was recommended to us by friends who went to Alaska on a cruise, which they loved. Since my husband and I recently retired, we wanted to see "everything" in Alaska. Since we had never been on a cruise or a tour of this magnitude, we had lots of questions and reservations about all of it…but Sheila answered all of them and sent us lots of emails and docs that not only helped alleviate any nervousness but also got us more excited about our trip! After getting some background on us, she gave us choices she thought would be a good fit, and we ended up loving the land tour we took the first week, and then the relaxing cruise we took the second week. We saw so many different sites, both beautiful geographically and interesting culturally…more than we ever thought we would. We have lots of stories and memories for our families and friends and will be recommending Sheila to all of them for their vacation needs. Thanks for the quality, organization and ease of working with you on our first adventure Sheila!
San Bernardino Couple Goes on an Alaska Cruise for 40th Anniversary
Just returned from an amazing cruise to celebrate a special anniversary. Sheila made it so easy by handling every step of the process. She was able to answer any questions we had, and provided a really helpful app too. What we were most impressed with was all the personal touches that really made our trip special! We have already been recommending Sheila to family and friends.
Palm Desert Couple Enjoys Alaska Cruise
Sheila made it easy to enjoy our last minute vacation so all we had to do was sit back and enjoy ourselves! She took care of all the little details, made wonderful suggestions for us and we had a great time. I highly recommend using her for all your travel needs.
Calimesa Couple Has Flawless Vacation to British Isles
Sheila planned our 34 day vacation thru Ireland, Northern Ireland, Scotland, and England, with a return trip on the Queen Mary II, and a weekend in Virginia.
Everything was flawless! We had multiple travel connections traveling by plane, train, ferry, rental cars, limousines, and ocean lines. With 15 different hotels along the way and multiple tours, we expected to hit some bumps along the way, but with Sheila's attention to detail, we never had an issue.
Sheila also utilizes a mobile app that gives you access to all your travel details anywhere and anytime.
First, I would highly recommend Sheila for any travel plans, work or pleasure.
Second, I would recommend a visit to the British Isles.
We'll be using Sheila again for our next trip.
Grand Terrace Couple Has TWO Trips of a Lifetime
Last year, my husband and I decided we wanted to take a trip for my 30th birthday (to Alaska, because I wanted to see the glaciers before they're gone!), as well as a New Year's tropical vacation. Sheila's efforts allowed us to have two "trip of a lifetime" experiences in a single year!
When we first decided that we wanted to see Alaska, we weren't even sure how to go about beginning the process and were quickly overwhelmed. But more importantly, in terms of our second trip, while we knew we wanted to go *somewhere* tropical, we weren't sure exactly where. This is where Sheila comes in! After a short phone call getting to know us both, Sheila quickly helped us choose the right cruise line for our goals (a smaller ship, that was more adult-oriented, with a passable dining experience) and select a location for our first tropical trip (Belize).
Sheila took care of every element of the trip, from booking a private car to take us to our hotel the night before our cruise to the puddle jumper flight we took from Belize City to Placencia (the town our resort was in). Sheila is all about the details and it shows! We were always welcomed with a note from her and often a snack or drink. It's those little touches that make the difference.
The resort that she found for us in Belize was absolutely gorgeous. It was such a wonderfully relaxing trip, and we were able to relax leading up to it as well, knowing that everything had been taken care of. Sheila kept us informed of any changes to scheduled flight times, and adjusted our itinerary accordingly. When we had an issue with the flight on our way home from Belize, I called Sheila and left a message (after hours), knowing it was a long shot. Not only did she call me back within 10 minutes, she called the airline on our behalf and did her best to come up with alternative solutions for us. Ultimately, it was out of all of our control, but her dedication was impressive nevertheless.
Finally, I have to mention again that Sheila is all about the details. Even when it is outside the parameters of your travel. Every time I emailed with a question (and I had a few), she would respond promptly and without ever making me feel like a bother. She sent us guest passes to the Magic Castle(!!!) with our itinerary for each trip. The Magic Castle is an institution in Southern California and is only accessible to members and their guests. We were unbelievably excited to have this opportunity, courtesy of her thoughtfulness! Sheila also sent us a lovely custom ornament at Christmas to commemorate our Alaskan cruise! I can not emphasize enough how much effort Sheila puts into maintaining relationships with her clients and it makes all of the difference.
Fountain Valley Couple Enjoys First Class Travel
Sheila was awesome, very detailed and everything she put together was first class. We booked a Mediterranean cruise with stops in Barcelona, Italy and France. She booked our hotels when we decided to spend extra time in Barcelona. They were extremely clean, comfortable and very friendly and helpful. She also booked private tours for our stops in France and Italy. The private tours were first class as well. Sheila will be our go to gal for all of our future travels. Thanks again Sheila!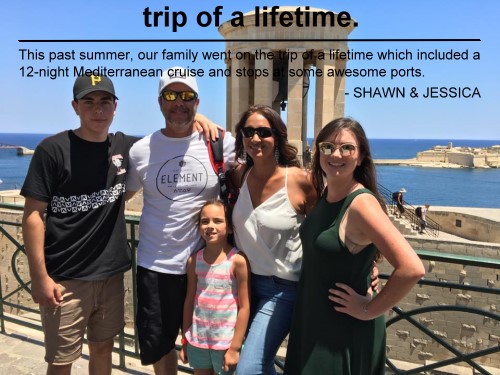 Redlands Family Has a Once-In-A-Lifetime Mediterranean Cruise for 50th Birthday and Retirement
This past summer, our family went on the trip of a lifetime which included a 12-night Mediterranean cruise and stops at some awesome ports.
I reached out to Sheila almost a year in advance to start the planning. She was on top of every part of the planning which included choosing a cruise, travel to Barcelona and back, tours, and travel tips.
The trip went off without a hitch and will be remembered by everyone forever. Sheila pays attention to detail and makes sure everything goes according to plan.
I highly recommend her services and will use her again in the future!
Moreno Valley Couple Has an Unforgettable River Cruise in Europe on the Rhine River
Sheila made our 40th anniversary unforgettable! We called her the last-minute & she had us booked on everything and ready to go on a spectacular European River cruise the next day. She met with us beforehand to get acquainted with our expectations, likes & dislikes, and planned accordingly. She was spot-on in every way because we had such a lovely time. She was pleasant, patient with all our questions, and we would highly recommend her.
Want to have a cruise vacation… CLICK HERE
 Mission Viejo Couple Enjoy a Danube River Cruise
The trip was amazing!  There were so many "pinch-me" moments!
From Amsterdam to Prague…loved, loved, loved! AMA was great. I think Prague was my favorite city!
Thanks for all your help!  You are wonderful!
Chula Vista Couple Enjoy A River Cruise On The Danube With Sister
Sheila,
Thank you Thank you Thank you! You have helped my wife and I have a three wonderful romantic adventures together.
Our last cruise down the Danube River was fantastic! Without your help we would have never been able to afford it. You saved us thousands of dollars.  You've saved us lots and lots of money on all of our cruises.
Laurie and I have now contacted you for three cruises. You make the process so simple for us. I love that you get back to us so quickly when we have a question.  It is such a complicated process to go on these cruises; picking the right cruise line, airfare, and hotel accommodations.
It is so neat that we can just give you a general idea of what we want and you come back to us with lots of recommendations.  Even when the trip is complicated you take care of us.  On the Danube River cruise we went with my sister-in-law and brother-in-law it was complicated because we live on the west coast and they live on the east coast. You figured out for us how to all meet and travel together.  We then had to keep changing the dates that we could leave and you were so sweet to keep making the new arrangements for us. You are simply the best!
My wife and I are both 56 and lead very busy lives. Knowing that we have you on our side makes the trip worry free for us.  Your knowledge of travel is outstanding.  You save us a huge amount of time and hassle.
I recommend you to other couples all the time that want to have a fun, romantic trip together.  Feel free to use me as a referral to any of your potential clients.
Sincerely,
Want to have a cruise vacation… CLICK HERE
Sunnyvale Couple Cruise South America And Antarctica On A Trip Of A Lifetime
My daughter and I wanted to travel to South America and thought, since we were going to be all the way in Argentina and Chile, we also wanted to see Antarctica. I searched around looking for ways to various places in So. America, but also actually go to Antarctica, not just cruise by it (and couldn't figure it out). I called Sheila (Redlands travel agent), told her what we wanted to do and how much money we could spend and she made it all happen. She covers every little detail, thinks of everything, things I would not have thought about until I was there. We went to Buenos Aires, Argentina; Monteviedo, Uraguay; Falkland Islands, Punta Arenas, Chile, Ushuaia, Argentina; Cape Horn, several spots on Antarctica and Santiago, Chile. With this trip my daughter has been to every continent of the world. So if you want someone who has knowledge of many different places, and types of itineraries, give Sheila a call. She can arrange your dream vacation.
Sheila thanks for our trip of a lifetime!!!
Want to have a cruise vacation… CLICK HERE
Santa Rosa Beach Couple Savor River Cruise On The Danube
Sheila,
Thank you for a "perfectly" planned cruise! We had a magnificent trip. The Viking was everything you said it would be, and then some. I have shared your business card with my Aunt.
Our sincere appreciation for everything!
Sincerely,
Want to have a cruise vacation… CLICK HERE
Encinitas Couple Enjoy Danube River Cruise With Extra Nights In Vienna And Budapest
Carefree Romantic Vacations is the best.  Sheila handled every detail of our first trip to Europe, including combining Hilton Honors stays at the beginning and end of a 7-day river cruise. Her recommendations were spot-on. She asked great questions about what we wanted, then delivered a vacation that was flawless and exceeded our expectations.
Sheila's attention to detail is phenomenal and she's incredibly organized. (I'm an organized person myself, so I don't give out that compliment easily.). She really knows how to pro-actively handle arrangements so things go smoothly and predictably while you're traveling.  There was no stress, because [she] thought of everything.
The champagne, desserts, and goodies [at our hotels] were wonderful and we loved getting them along with [her] sweet notes.
I highly recommend Sheila. You won't be disappointed.
Anthem Couple Find Time For Belated Bahamas Honeymoon Cruise
My wife and I tried planning our honeymoon for close to a year! With two kids, it made it difficult to find the time for ourselves to plan a vacation that is suppose to be fun, not stressful. I was advised by my best man to consult with a travel agent that made his honeymoon a breeze! With Sheila's help at Carefree Romantic Vacations, all of the stress was taken off of our shoulders. She was so helpful with picking a destination, cost efficiency, and overall value in the experience. From the flight out of Phoenix, to the port in Miami, to the exclusive beaches in the Bahamas, Sheila made it all happen! Absolutely the best experience my wife and I have ever had. We expect to use Carefree Romantic vacations to plan all of our excursions from here on out. I would highly recommend there services to anyone!
Want to have a cruise vacation… CLICK HERE
Top 5 Things to Take with You for a Romantic Getaway
Set the Stage for Romance
Use these Ancient Seduction Secrets
Don't Forget the Most Important Item!