Kristen & Sergio V.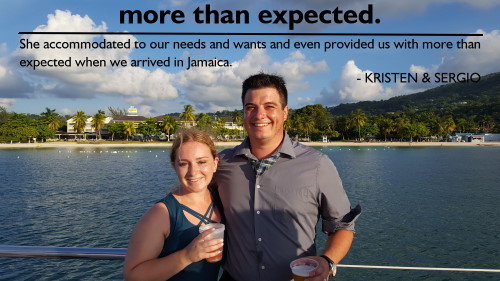 Upland Honeymooners Have a Wonderful Honeymoon in Jamaica
I cannot stress enough what a wonderful choice we made in booking our honeymoon with Sheila! I was recommended to use Sheila and her travel services from my cousin who was married two years ago and booked a wonderful honeymoon to Costa Rica! I went to a bridal show and met Sheila and my husband and I decided to use her as our agent. We both have never used a travel agent before but she was wonderful! We had a phone consultation and talked about the possibilities within our budget and Sheila was able to open our eyes to new honeymoon options that we were able to afford. After our phone consultation we were ready to go to Jamaica!
Sheila was wonderful in booking our stay-we did not have to do anything! Sheila was very kind and professional throughout the booking process and very respectful towards what my husband and I wanted in a honeymoon. ed via email with me from her own vacation in South Africa and was still able to provide top notch service.
Up to the last moment she was communicating with us about flights via her app as well as through phone calls and text messages. She made sure that all plans fell into place for our honeymoon.
Our honeymoon resort was so wonderful and from the beginning Sheila communicated with the resort (for example sending our wedding invite) to make our stay special and give us special honeymoon amenities. She set us up with the most relaxing and romantic trip and we are so grateful for her hard work. From our arrival at the airport to stepping on the flight home we did not run into any obstacles, we were set up from the beginning and Sheila had everything ready for us.
Sheila provided a wonderful service and we will definitely be booking with her again in the future! I highly recommend her services as she goes above and beyond to make you feel special on your honeymoon. We felt heard when it came to what we wanted in a honeymoon, respected in what we could afford and lucky to have had her as our agent. Once again Sheila did a wonderful job and she has such passion for her work and making couples feel special on their honeymoon.
You deserve a great honeymoon… CLICK HERE
Top 5 Things to Take with You for a Romantic Getaway
Set the Stage for Romance
Use these Ancient Seduction Secrets
Don't Forget the Most Important Item!